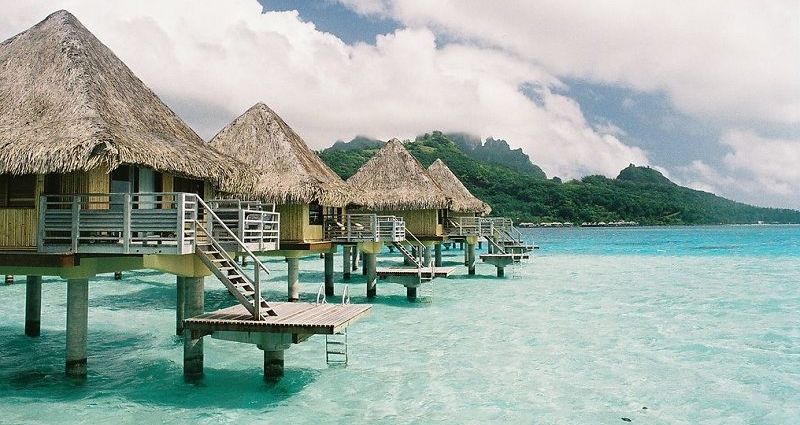 View of Mount Otemanu, Bora Bora from the
InterContinental Le Moana Resort
.
Editor's Note:
I visited most of the resorts on Tahiti Nui, Moorea, and Bora Bora a few years ago, to get a better feel for the differences between the resorts. I went in January, which you'll soon see is in the hottest, most humid time of the year--and really, it wasn't that bad. The difference between typical temperatures in that month and the coolest, driest months is only about 5 degrees.
What I found really striking, however, is how different the resorts really are. From pictures, the overwater bungalows look very, very similar, and in fact I'm more able to tell which resort I'm looking at from the view, rather than the look of the bungalows. Here's where the resorts really differ:
Interior style: some are very Polynesian, some have a very classic feel with antique furniture, some are opulent/luxurious with exotic woods and marble, some feel very modern and chic
The grounds: some are totally flat, others have interesting hills and jungle bits, some feel very open, and others you wander through twisting paths in the jungle (one of them has a spa set in the middle of a lily pond!)
Pools: some are more elaborate than others, with creative shapes, different views, etc.; some of the bungalows even have private plunge pools
Dining: I never had a bad meal in French Polynesia--not even a mediocre one, but some resorts have a more expansive menu than others
Condition: the photos from the hotels will always make the hotel looks its best--some of them have seen some wear and tear since the pictures were taken, so it's helpful to talk to someone who's seen the properties recently
Location: you can snorkel from the deck of your overwater bungalow at any of the resorts--the difference is what you'll see underwater, as there's a radical difference in what's on the bottom near the bungalows from one property to the next
Views: on Bora Bora, you'll get views of the spectacular Mount Otemanu from every resort--but, not necessarily every bungalow, as there are a few resorts on the main island (Otemanu is behind you then), and one resort with bungalows on the opposite side of the motu, facing west, away from Otemanu. On Moorea, you're not generally going to get views of the mountains from your bungalow, but you will on the walk back to the shore. And Huahine and Le Taha'a are their own little worlds.
You're going to spend a fair amount of money on your Tahiti trip, no matter what resort you stay at. And, you're spending an important week or two of your lives, and traveling a long ways to get there. You'd be foolish to NOT consult with a travel agent who knows the resorts and islands thoroughly (and who knows all of the specials currently available). It's not going to cost you any more, since our travel agents make their money on the back end, via commission...the cost to you is generally the same as if you booked it yourself directly.
Tahiti Weather: High and Low Seasons
The overall high season in French Polynesia extends from May 1 to October 31, although some resorts change their prices starting April 1. The low season covers November 1 to April 30.
Tahiti wholesalers--and the resorts themselves--are very active when it comes to special offers, discounts, extra inclusions, etc., and so these kinds of deals are changing all the time. Most websites aren't able to keep those specials up to date--there's just too many of them, and they're changing and expiring all the time. At Visual Itineraries, we track the offers from the major wholesalers daily, and our specialists have tools that show them all the available offers and discounts for a particular property instantly.
See our complete list of travel specials for Tahiti, Moorea, Bora Bora, and the Tuamoto Atolls.
During the high season, temperatures are milder and there are fewer rain showers with less humidity, and better visibility for divers. However, there are two or three times as many tourists per resort – thus increasing demand for sightseeing activities and prices for lodging and events.
Throughout the slower months, the costs are lower and there is less competition for spots on popular tours. Additionally, just because it's off season it doesn't mean the sun completely disappears! Tahiti still receives warming rays, although consecutive days of rain are possible.
See & compare all resorts in French Polynesia
If you're trying to decide where to stay in Bora Bora, Moorea, Tahiti Nui, Huahine, Taha'a, or the Tuamotu Atolls, we can help! For the 34 resorts there, we've got over 600 high-resolution photos, 53 videos, and 27 virtual tours to help you find your Polynesian dream resort. Click here to use our Visual Explorer to check out all of them.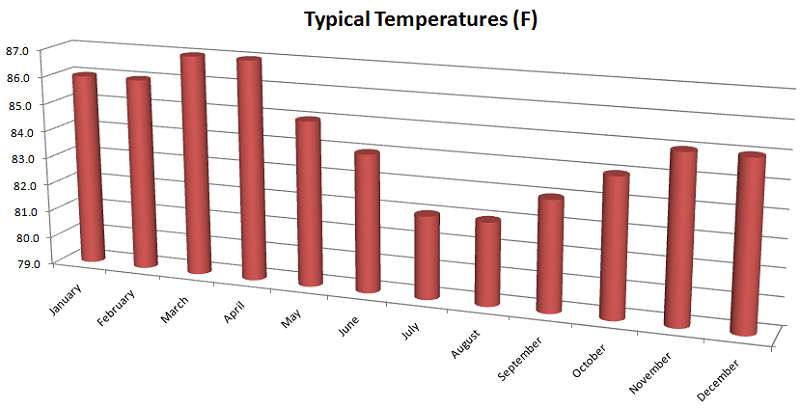 Average temperatures in Tahiti
The annual average temperature in Tahiti is 80 degrees Fahrenheit, or 27 degrees Celsius. Closer to the equator, the Tuamotu Atolls and the Marquesas Islands have slightly warmer temperatures than Tahiti, Moorea and Bora Bora.
During the high season, or winter, temperatures range from 70-82 degrees Fahrenheit, while in the low season, summer, temperatures vary from 70-85 degrees Fahrenheit. December and January average 12 inches of rain a month, however, Tahiti receives more hours of sun than Hawaii during the comparable humid season. Less than three inches of rain fall per month from June through September.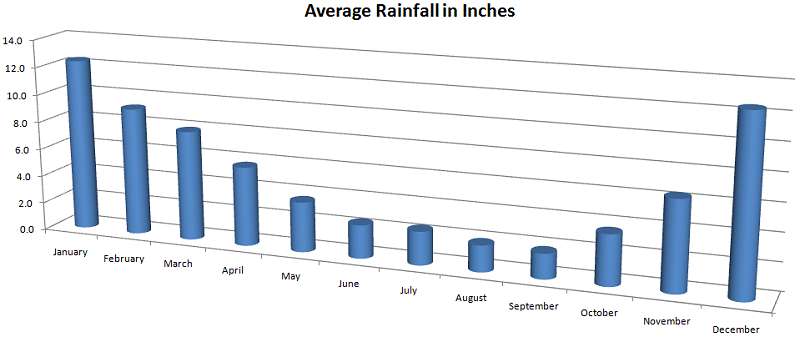 Storms in Tahiti
The humid season in Tahiti is from November to April. Occasionally, strong storms do develop. Cyclones are rare, with the last powerful one occurring in 1982.
Typical airfares from LAX
Airfares vary by season, but also day of week, and are definitely affected by holidays. The chart above shows the typical minimum and maximum fares for a economy class ticket from Los Angeles (LAX) to Papeete (PPT), by month. We gathered this data in June 2016 from FareCompare.com.
Overwater bungalow, or garden bungalow, or beach bungalow?
Definitely overwater bungalows give the iconic French Polynesian experience--the views, the ability to step off your own private deck into the lagoon, having your breakfast delivered by canoe, and watching the fish below you through the glass floor in your bungalow...these are all pretty amazing experiences, and we'd recommend you spend at least 1 or 2 nights in an overwater bungalow.
We've been to all of the resorts in French Polynesia, and seen all the different room categories, and honestly, most resorts' garden and beach bungalows are pretty fantastic as well.

Many will have a private plunge pool or a jacuzzi. And while the "horizon" overwater bungalows have spectacular views, after a few days, you might get a bit tired of walking all the way out to the end of the wooden walkways and back every time you want to go to the restaurant, go on an excursion, etc.

The garden and beach bungalows are typically going to be less of a trek from the main points in the resort.

View from a beach bungalow at Bora Bora Pearl Resort.


A garden pool suite at Bora Bora Pearl Resort.

What we'll often recommend is that you split your time between the overwater bungalows and the beach or garden bungalows. You'll get some variety that way, and you'll save some money, as typically the garden and beach bungalows are less expensive per night.

It's important also to realize that many of the resorts on one island have "sister" resorts on the other islands.

A great option is to spend a few nights in a garden bungalow on one of the islands, and then a few nights in an overwater bungalow on another. Often, the resorts will have special discounts if you stay at two or more of their resorts.
Popular combos:
Often, people will combine these with 1 night in Papeete, so you have a chance to see Marche Papeete and explore the town, do some shopping, etc.
Water temperature, scuba diving and surfing in Tahiti
The water temperature in French Polynesia, like the air temperature, doesn't change all that much. August and September it's around 77 Fahrenheit; in March and April it's more like 85F. Some people wear shorty wetsuits, some a t-shirt (mostly to avoid chafing), but I've found a diveskin is ideal--just enough warmth, and less restrictive on your movements than a shorty. Also, if you have your own diveskin with some sort of design on it, you'll be easier for your dive buddy to spot amongst all the other divers in identical rental shorties. For more on diving vacation trips, check out this article I wrote for Expert Beacon.
Scuba diving is possible off the coast of many islands. In Bora Bora, you'll find an amazing array of sharks at Tapu, the entrance to the lagoon on the west side (I included this spot in my article on top 10 "bucket list" destinations for scuba divers at Go World Travel Guide). Really spectacular diving can be found in the Tuamotu Atolls. You'll find a terrific, detailed description of dive sites on the various islands in David Stanley's Tahiti guidebook (now in its 7th edition). Surfing is most abundant in Tahiti and Moorea and up-and-coming in Huahine. May is a popular surfing month, due to the Billabong Pro competition at Teahupoo in Tahiti.