\n"); document.write ("
Yasawa Island Resort, 5 nights from $2619
\n"); document.write ("
"); document.write ("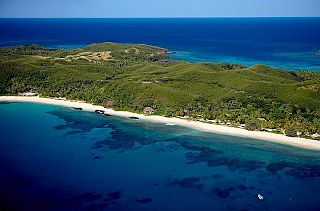 \n"); document.write ("
\n"); document.write ("
Hotel:
Yasawa Island Resort & Spa Fiji
.
- Every 5th night FREE
- $35 USD per room, per night RESORT CREDIT
- All meals including all day dining menu
- Room service & private dining options
- Non-alcoholic beverages, including soft drinks, fruit juices, bottled water, tea and coffees
- Private beach picnics
- Roundtrip flight transfer from Nadi airport to the resort for 2
\n"); document.write ("
Terms & Conditions : Offer valid on new bookings only of seven nights minimum in destination (may split stay between multiple properties, subject to hotel minimum night stays). Any prices shown are based on double occupancy except if expressly noted otherwise. Purchase of Classic Vacations' Change & Cancellation Waiver required to qualify for the Take Off to Tahiti instant Classic credit. One Classic credit per booking, while supplies last. The 2-for-1 tour offer is valid only on the Half- Day Bora Bora Discovery or the Full-Day Bora Bora Tour, and requires a minimum of two passengers to qualify. All terms and conditions for the instant Classic credit also apply to the additional $100 credit for West Coast and Canadian departures, valid from the following airports: FAT, SNA, SAN, LAX, BUR, SFO, SJC, PDX, SEA, PSP, YVR, YYC, YEG, YYZ, YUL, YQB, YBA, YHZ, YYJ, YQR, YWG, YOW. Offers are subject to availability at time of booking and may be changed or discontinued at any time without notice. Blackout dates, minimum night stays, minimum stay requirements on air, seasonal surcharges, resort fees (if any), and other restrictions may also apply. Booking and travel dates may vary by property. Subject to hotel minimum night stays. Other promotions and departure dates available which may result in a different rate and/or hotel inclusions. Customer is responsible for hotel taxes and fees on free night offers. All prices shown are in USD. Not valid for Group Travel. Classic Vacations CST #2079429-20.
\n"); document.write ("\n"); document.write ("
Valid for travel before Dec 31, 2017 (travel must commence by Dec 31, 2017).

\n"); document.write ("
Company: Classic Vacations
\n"); document.write ("